Last weekend, middle school and high school students from the greater Owensboro area converged at Bellevue Baptist Church for a Christian conference called THE WKND. The conference featured dynamic worship, engaging teaching and practical messages of hope and unity.
In addition to the main sessions of worship and teaching, THE WKND featured a group meal served by volunteers from the participating churches, sports tournaments hosted at the Owensboro Christian Church Recreation Center and a glow party featuring DJ Rerum booked out of Indianapolis.
More than 450 people were involved from 10 different churches in the community including students, volunteers and church staff. THE WKND, an adaptation of what is known in the Baptist community as Disciple Now, was organized by local youth pastors hoping to do together something they could not do alone. In years past, similar events were organized by local pastors, which Kyle Watkins says was the inspiration behind his desire to reach out to other churches for this year's event. The student pastor at Bellevue was ecstatic with the response from his compatriots.
"Owensboro has a long history of student ministries working together for big events like this," Watkins said. "The last few years that effort has changed a bit, so we wanted to get that excitement for cooperation back amongst our churches. We're blessed to have lots of new and excited youth workers in town and it's been awesome to see those connections and relationships grow quickly through this event."
One youth pastor who fits the profile of both new and excitable is Bridgepointe's director of students, Brennan Banet. Banet recently made the transition to Owensboro after several years of ministry in the Kentuckiana area at both Northside Christian Church and Graceland Baptist Church. He said the event was a great catalyst for his church's students.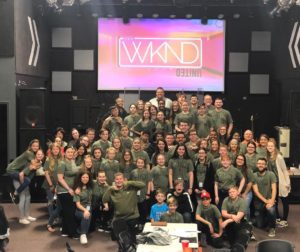 "To be with other students from all over Owensboro was a huge win for our crew," Banet said. "For the first time since I've been here, they got to see that they are not the only believers in Owensboro and that their faith isn't something that is confined to a Sunday morning or a Wednesday night. Coming to Owensboro in the last year and being new to Bridgepointe, THE WKND has helped to solidify trust between me and my leaders and students. The event actually delivered what it promised, and we have never been more unified as a group."
Banet and Watkins teamed up with youth pastors from First Baptist Church, Owensboro Christian Church,  Pleasant Grove Baptist Church and Pleasant Valley Community Church to plan THE WKND from the ground up. Groups from Corinth Baptist Church, Macedonia Baptist Church, Pellville Baptist Church and Walnut Memorial Baptist Church also attended.
Watkins, Banet and the other youth pastors are hoping to continue expanding THE WKND conference next year as the word gets out about the success of the endeavor. For any groups looking to jump on-board in 2020, Watkins invites them to reach out to him via email at [email protected].