Baird has been a private wealth management firm with an unwavering commitment to its client's best interests for more than a century. The Milwaukee-based company made its way to Owensboro in 2019 when it purchased Hillard Lyons, a longtime staple in the local community.
Hillard Lyons first opened its doors on Owensboro's riverfront in 1945, relocating twice and expanding its current location countless times to accommodate exponential growth. The company just completed an expansion and remodel, extending into the atrium of the historic Union Station building at 1035 Frederica.
"When Baird acquired Hillard Lyons, we had 68 offices across the middle of the country," said Branch Manager Director Rick Hobgood. "It was the perfect fit because we have similar cultures. Our clients always come first in all we do, which remains a focal point as we work towards our objectives."
The office offers various financial planning services, ranging from securities, retirement and education planning, and estate planning, to mergers and acquisitions. Baird is privately owned by its employees, which Hobgood said offers them several advantages.
"Other companies are traded on the exchange and have to worry about what their shareholders are saying," he said. "As employees, we own all of our stock, which frees us from outside influence, so we can focus on what we're trying to accomplish."
Freedom from outside pressures has preserved strong balance sheets for Baird, which has never laid off an employee. Hobgood added that even during the 2008 housing crisis, they could evade many issues that plagued other companies.
In addition to the U.S., Baird operates in Europe and Asia, with more than 4,700 employees and over $415 billion in assets under its management. The organization ranks in the top 100 for places to work nationally.
Since Hobgood took over in 1989, the local Baird has grown from six employees to 26. Following the company's corporate structure, the office prides itself on positive synergy and a diverse workforce.
Both internationally and locally, the company also places a strong emphasis on community involvement, with employees serving a wide range of local nonprofits.
"We are involved with more than 35 different nonprofit boards in town," Hobgood said. "Baird is so committed to giving back that they give every employee 72 hours of paid time off to dedicate to volunteerism. We strongly encourage our employees to get involved and give them countless opportunities to do so."
The organization proudly supports the Bluegrass Music Hall of Fame & Museum, RiverPark Center, ROMP, and the Greater Owensboro Chamber of Commerce, to name a few. They are sponsoring the chamber's Rooster Booster breakfast on July 7 and have Don Rismiller – one of the country's top economic and political advisors – scheduled to speak.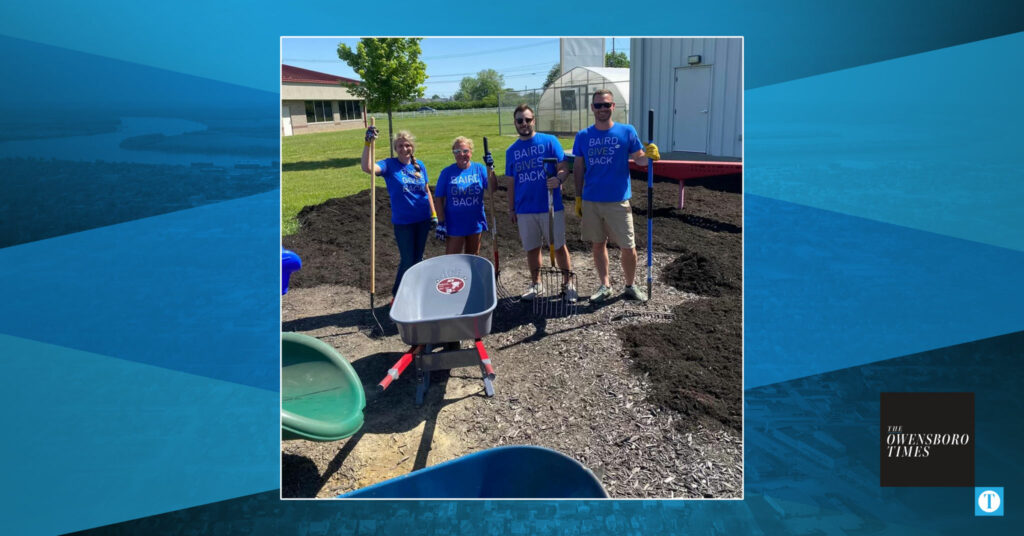 Client Assistant Amanda Payne said the group was eager to get back in the community in a more "hands-on" manner with the decrease in COVID-19 restrictions. They celebrated the 2022 Baird Gives Back Week more traditionally, conducting several outreach and beautification projects within the community.
"Giving back is a core tenant of Baird's values, and 2022 was the first year that we, as the whole company, could get back in person and get outside the office to do more," Payne said. "The entire branch was involved and did a wonderful job. We love working for a company that prides itself on giving back."
During the week, Baird employees organized and implemented beautification projects at the Boys and Girls Club and Care Net. They also donated care packages to CASA of the Ohio Valley and assisted with Meals on Wheels at the Senior Community Center of Owensboro-Daviess County.
In 2020, Baird headquarters selected the Owensboro and Evansville offices as branches of the year because of their growth and outreach efforts. Hobgood said they were honored to receive the accolade in just their first year with the organization.
He attributes their long-term success to how they do business and the legacy created by the many financial advisors that laid the foundation.
"Our ethics, integrity, and doing what's in the best interest of our clients has allowed us to maintain those clients over time," he said. "We see the benefit of that from dealing with third-generation families."
The local office oversees over two billion dollars across 7,000 accounts.
"The community has been loyal, and they've trusted the framework created by the many quality financial advisors over the years," Hobgood said.
For more information about Baird, visit their website here.
This article was sponsored by Baird.