When David Little joined U.S. Bank Home Mortgage as the Executive Vice President in 2016, he asked the officers if the bank could host a holiday meal for local seniors. The idea appealed to the bank's officers and Vice President Patty Millay, who heads employee performance excellence and community engagement, contacted the director of what is now the Senior Community Center of Owensboro-Daviess County.
With approval for the outreach from the center, and the suggestion of combining it with bingo, which is a center tradition, the bank's employee and community engagement team partnered with Moonlite BBQ to cater the lunch earlier this week.
"We hosted our first event with approximately 100 guests," Millay said of the three-hour event.
So successful in the first year, seating was expanded to seat 150 guests in 2017. And this year, an extra room of seating was added to accommodate more than 235 guests that were served.
Reservations for the holiday luncheon and bingo event began in September, and Millay said they are considering moving the event to a larger space to include more guests.
"With this year's crowd, we doubled the banana pudding order [from Moonlite BBQ] because that's everyone's favorite, and we wanted to have plenty to send something sweet home with our guests," Millay said.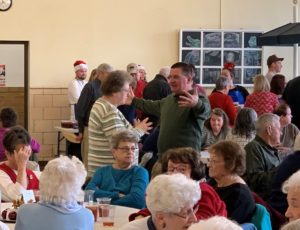 A team of 25 employees from the bank volunteered to shop and prepare the prize bags, serve on the buffet line to the attendees and refill tea and water tableside during the luncheon. After lunch, the volunteers helped with Bingo and passed out the prizes to the winners.
Dana Peveler, the Senior Community Center of Owensboro-Daviess County Director, provides the U.S. Bank Home Mortgage volunteers with a suggested list of items for bingo prizes to be handed out during the event.
"We pull that together into themed gift bags for everyone," Millay said. "No one leaves hungry or empty-handed."
Along with the suggested items, attendees also received a U.S. Bank Mortgage Servicing Employee cookbook, something they created this year and shared with each guest.
Peveler said that for days following the event she hears positive comments about the event from those that attended.
"The U.S. Bank volunteers are always so festive and they absolutely cater to them, bringing their drinks to the table, taking their plates when they're finished … they spoil us!" Peveler said.
According to Millay, the volunteers always leave with big smiles, full hearts and new friends.
"Our seniors are a highly valued part of our community," Millay said. "We want to make sure that they know how much we respect and appreciate their contributions to us."