When Nick T. Arnold Jewelers opened 120 years ago, they aimed to offer a positive, personalized experience for each customer that walked in. They've been able to do just that for 12 decades, and they've become a staple in the community.
Owner Candy Arnold Oakes is a fourth-generation jeweler, and she said the support from the community over her 30 years plus her family's time in the business has been a blessing.
"We know the people that we work with. I am seeing the same (pieces) that I sold 20 years ago and I know how to help take care of it," she said.
Oakes said one of the major changes in the industry through the years is the switch to lab-grown diamonds — a shift that came due to decreasing supplies of the materials that previously were the main components of jewelry.
"The planet really is changing; there are less pearls to get and less diamonds to get. So there are industries learning to create those things to satisfy that need," she said. "That's one of the biggest recent things, we have lab-grown diamonds that are coming in brighter and cleaner than the naturals."
While it's a different product, Oakes said the transition has been beneficial because the jewelry is appealing to the younger generation. Oftentimes, she finds the younger crowd is just as happy with the lab-grown diamonds, while the older generation is still learning about the changes.
To help raise educate customers, Nick T. Arnold uses Facebook Lives to teach people as much as they can.
Though the newer style of jewelry is growing in demand, the store still sells natural diamonds and a wide array of other items — ensuring they appeal to all customers.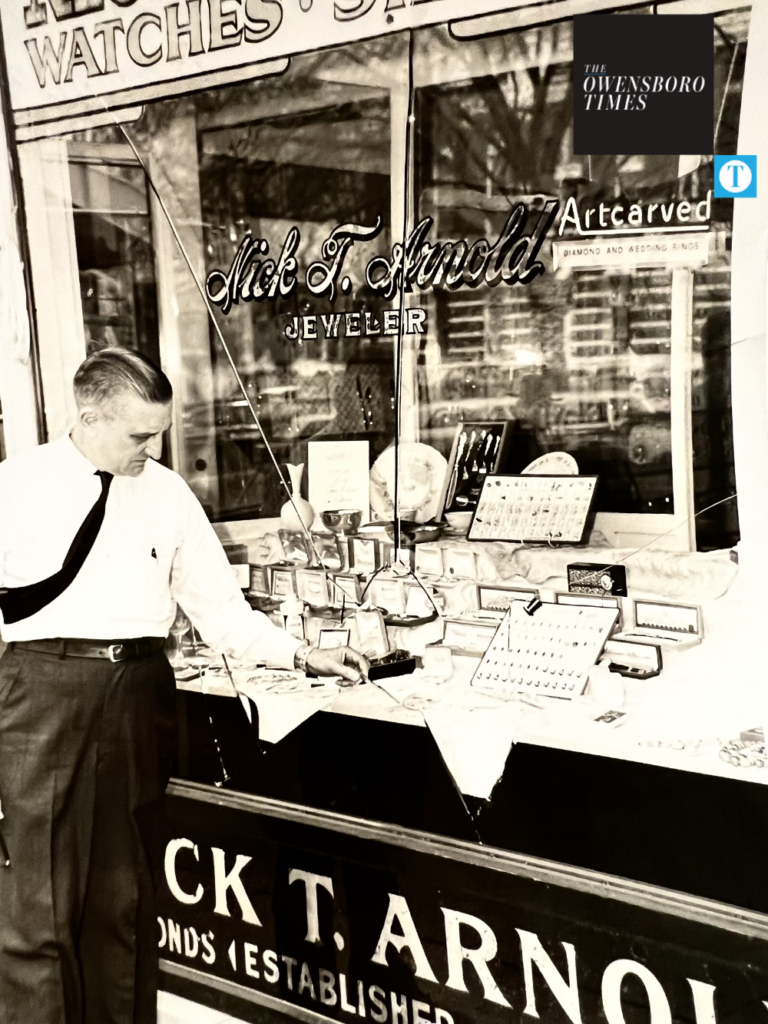 Always busy throughout the year, Christmastime is obviously a peak season for the jewelry business.
Much of what is sold this time of year is custom orders. Oakes said in addition to the importance of being able to help create and find something unique, Nick T. Arnold also takes pride in those orders creating lasting memories that are then shared on return visits by families.
"It's always nice to see the people and have that continuation. When people tell me 'my dad made this for me' … it's a continuation of a connection you have where the person you once worked closely with is the person that made another customer's special occasion happen," Oakes said.
Those community connections are among Oakes' favorite memories. One example she gave is being a part of the process beginning with a boyfriend coming in with a drawing of a ring and hoping to surprise his soon-to-be wife, and ending with seeing the bride's dream come to reality.
With her 32 years in the company, she said it's moments like those that keep the people coming back. Oakes believes that after 120 years, Nick T. Arnold has established themselves as not a commercial enterprise but a smaller personal business.
"It is great to have an anniversary and we are blessed to have an anniversary," Oakes said. "We have the ability to help the everyday person that's been coming in for 120 years and just simply doesn't want to go to someone they can't trust to take care of them. That's the biggest thing that makes us stick around, is we care about every job."