Apollo High School celebrated its 50th birthday on Friday, Aug. 31, making it the youngest of the four high schools in Daviess County to celebrate this milestone.
Students were greeted by golden balloons that read 5-0 at each drop-off entrance as they walked through the doors Friday morning. The festivities continued into lunchtime where the entire student body was invited to the football field for an 'Eagle Family' lunch with commemorative bracelets, cupcakes served from the concession stand, and inflatables.
Social studies teacher and student council and yearbook sponsor Jonathon Paff coordinated the event after having a realization in a yearbook class last year.
"We were designing the yearbook theme and the cover and realized we were on Volume 49. I started piecing together that this year would be 50," Paff said.
Apollo Junior High School opened on Aug. 29, 1969, was slated as a high school in 1972 and saw its first graduating class in 1974.
Using conventional math and the year 1969, it might seem that Apollo needs to hold off the celebration for one more year. However, Paff, and several other staff members, including bookkeeper, Becky Burton, did the math and their research. According to school years, it all adds up — to 50.
"We are planning on celebrating it all year long and we're excited, " Burton said.
Burton is especially excited about the "Apollo at 50" home football game on Friday, Oct. 5, in which the school has special activities planned to recognize the alumni.
Principal Rick Lasley said, "From the very beginning, Apollo has embraced the belief that we are 'Always an Eagle Family.' It is an honor to celebrate this milestone in our school's history as we welcome our former students and families back to join the celebration."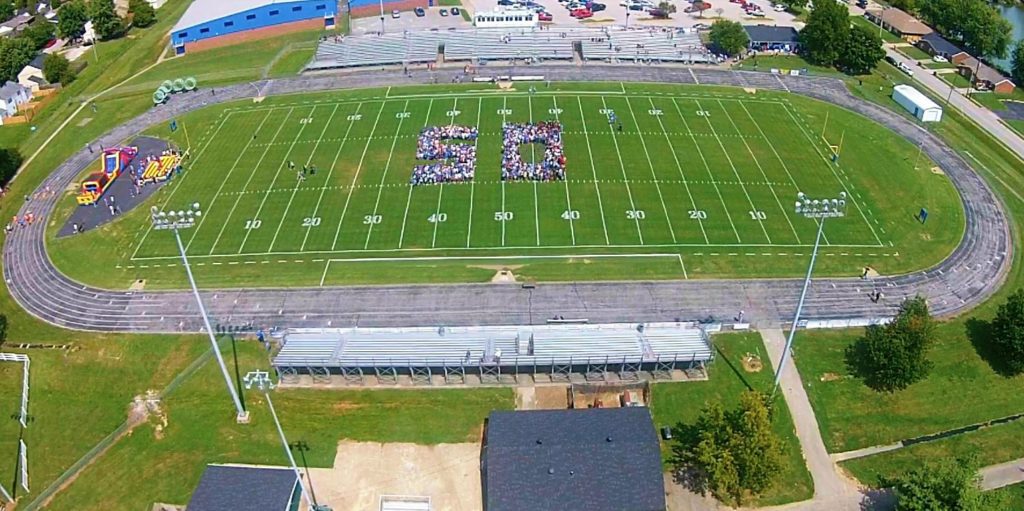 One original member of the Apollo family is math teacher Billy Ray Cartwright. Cartwright was at Apollo when the school opened and taught math at both Apollo High School and Burns Middle School. He stayed involved with Apollo athletics until 2004, where he coached football, basketball, track and swimming, and was the athletic director for a period of time.
While Cartwright cataloged a lifetime full of memories in his 35 years at Apollo, he especially enjoys receiving text messages from students who still wish him a happy birthday or check on him some 20 or 30 years after having him in class.
"Seeing how successful they are — I don't know what part I played in it, but that makes me happy," Cartwright said.
For those wanting to purchase Apollo 50th birthday T-shirts, they are available at the Apollo Spirit Store.