Owensboro Community & Technical College's Rover Team finished the Rover Challenge held in Huntsville, Ala. with fourth and ninth place finishes for their two teams.
NASA KY became a sponsor of the OCTC team in 2017, and has supported them each consecutive year. This was only the third time competing for the team, which consists of OCTC students, team advisors and faculty instructors.
Besides doing well in their race times, the team also exhibited "gracious professionalism," a concept that Rover team members and advisors originally learned through FIRST Lego League, a competition that OCTC hosts annually.
According to the FIRST website, "Gracious Professionalism is a way of doing things that encourages high-quality work, emphasizes the value of others, and respects individuals and the community. With it, fierce competition and mutual gain are not separate notions."
To embody this type of mutual respect and support for other teams, who attended from as far away as Puerto Rico, Germany, Brazil, Morocco, and India, OCTC teammates were quick to help their competitors. According to OCTC's Jacob Wethington, he and his teammates handed out snacks or offered other teams items they needed for their Rover.
"One team was missing a nut for their vehicle, and we were able to replace it for them," said Carter Brower, also a team member.
OCTC's team was also able to assist yet another team by providing them with seat belts, which are required for teams to participate in the challenges.
For one team member, the experience was not something she ever thought she would be involved in. Tabatha Humphrey, the female driver for Team #1 (each team must have one male and one female driver), was not the typical Rover team member. According to Humphrey, she was easily the oldest team member participating in the challenge at 47.
"One day an instructor asked me, 'Do you have to be the best at everything you do?' to which I replied, 'I try. I never do anything halfway,'" Humphrey said, explaining that her instructor then asked her to try out as a driver for the schools' Rover team.
Humphrey was the fastest female at tryouts and earned a spot on the Rover team. Along with her driving partner, Elijah Christian, their vehicle placed fourth overall at the competition with times of 5:12 on day one and 5:45 on day two.
"We pushed through some pretty tough obstacles with speed," Humphrey said.
According to Meredith Skaggs, team advisor, "Tabatha has an amazing attitude and her leadership skills led the younger students to stay positive, work as a team, and be more competitive. She wants to win in the midst of people doing their best and enjoying the experience, which is the essence of gracious professionalism."
When she graduates in May, Humphrey will have earned three certificates from OCTC's Computerized Manufacturing & Machining (CMM) program along with an Associate of Applied Science degree. When Tabatha considered returning to school, she originally wanted to be a nurse. But when she contemplated losing the 20+ years seniority she had earned at GE, she decided to complete the CMM program in order to qualify for a tool and die apprenticeship. Tool and die is the highest level of GE's skilled trades and the pay is better as well.
Because Humphrey will soon be a female in a male dominated career, one inspirational moment of the competition was meeting Sunita (Sunny) Williams, a female astronaut and U.S. Navy officer who holds the records for total spacewalks by a woman (seven) and the longest spacewalk for a woman (50 hours, 40 minutes).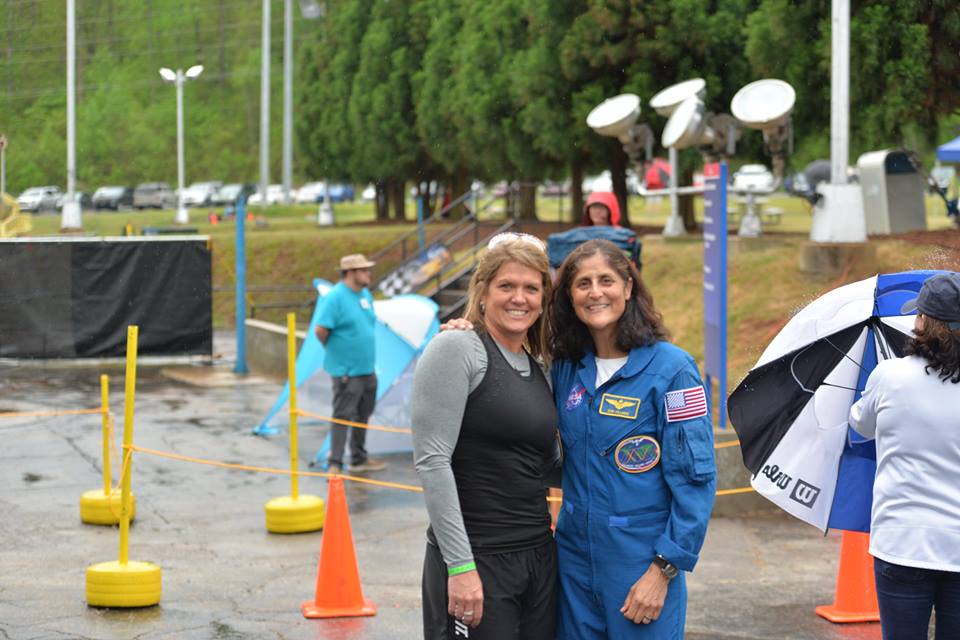 OCTC's Rover Team #2, driven by Gage Cameron and Olivia Jenkins, also ran successful times of 5:13 on day one and 6:21 on day 2two, earning them ninth place in the competition. The entire Rover team also returned home with the "Most Improved Award" for the team, demonstrating the most improved time over their previous year. The award included a cash prize. Team members Olivia Jenkins and Carter Brower convinced instructor Randy Crowe to utilize the money to add a suspension system and test out titanium wheels on their next vehicle.