Nearly two dozen local organizations including social service agencies and educational institutions benefitted from more than $25,000 worth of donated medical supplies and equipment Thursday. Michael Johnson, president of the nonprofit Truth Outreach, said it was a tremendous blessing and will help families in need in the community.
"It's really important for us to be able to receive these supplies because there are a lot of families that need them," Johnson said. "A lot of them go without the basic needs. This really helped us tremendously to be able to help the families in need in the community."
Truth Outreach was founded in 2016 and helps low-income families and the homeless.
"If we see a need, whether they're homeless or low-income families, we actually provide food, clothing, personal hygiene products, whatever they need, and we actually bring it to them," Johnson said. "We are a mobile organization. We go around the whole city and county area, delivering hope to people that need it. We actually go shopping for folks, we help the elderly. Whatever the need, we try to fill it."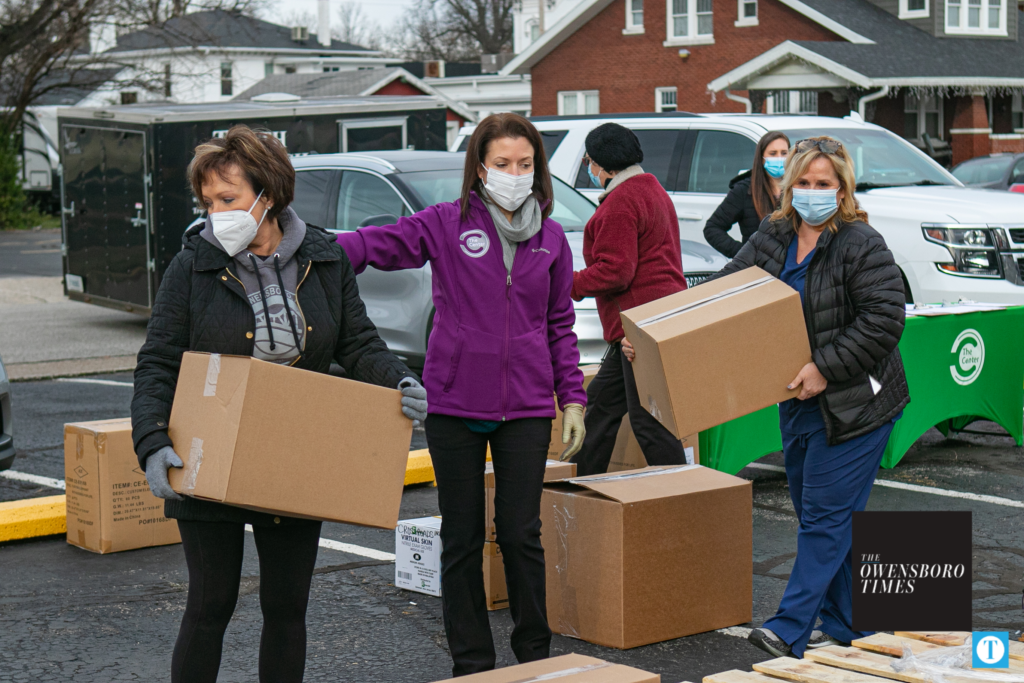 The products were donated by Louisville-based non-profit SOS, which collects surplus medical supplies from hospitals and medical institutions and redistributes them to local, regional and global communities in need.
Thursday's shipment included PPE, personal hygiene items, first aid and wound care supplies, medical equipment (i.e. shower chairs, rollators, walkers, canes, etc.).
The effort was organized in partnership with The Center of Owensboro-Daviess County, which also assisted with distributing the supplies to the receiving organizations.
"The Center prides itself in being a hub for local resources," said Sara Wade, Executive Director of The Center. "SOS has been a great community partner to us. They partner with a lot of different entities here in the Owensboro-Daviess County area. They reached out to us to assist them with finding out who could use some excess PPE and hygiene items. We reached out to our community partners and had them complete the checklist of what items they could use, and it all kind of came together beautifully."
Johnson, who was on site helping unload products from the delivery truck and place them in people's vehicles, said it's important for local organizations to work together for the benefit of the community.
"This is tremendous," he said. "Partnering with other organizations is the key for the success of the community to thrive. If we work together and unify, we can get a lot more done together than we can single handedly. I'm excited to partner with different organizations to be able to help the families in need."
Local organizations receiving supplies and equipment include Puzzle Pieces, Owensboro Regional Recovery, Help Office, CASA, St. Benedicts Homeless Shelter, West Daviess County Family Resource Center, Girls Inc., Family Resource Youth Services Center at Daviess Co. HS, East Daviess County Family Resource Center, Boulware Mission, Cliff Hagan Boys & Girls Club, H.L. Neblett Community Center, Oasis Inc., Burns Middle School, Audubon Area Community Care Clinic, Meadow Lands Elementary School, Central Daviess County Family Resource Center, Truth Outreach, Crossroads Inc., Owensboro Public Schools, and Opportunity Center.