Kelly Ann Harris is known in Owensboro for being a successful real estate agent. With more than ten years experience selling houses, it was her turn to decide exactly what to look for in a home. After finding the perfect piece of property, Harris decided to make a place for her and her son to enjoy.
"I bought this farm from a distant family member and I had been eyeballing it for many years," Harris said. "This piece of property is going to be my forever," Harris said.
Harris is building this forever home in phases. Recently, the beautiful pole barn home was finished with a huge wrap around porch and beautiful views. Not only does Harris love the modern farmhouse look, but her dad has a similar home. Eventually, there will be a guest house built on the land, but for now, the home is more than enough. Harris describes herself as a busy woman who doesn't need to build a big mansion.
"I wanted to build it for exactly what I needed," Harris said. "I wanted it big enough to be able to have events here."
The future vision is to use the space for hosting. The home is built in such a way that event planners could drape coverings on the walls if they wanted to change up the look for a wedding reception, nonprofit event or rent the space for various gatherings. As far as inspiration for the unique home, Harris had been planning for a while. When the time came to start the building process, she knew exactly what she wanted and held the vision for it to be an entertainment house.
"I would screenshot barn style homes on Pinterest 24-7 and send them to my designer Ashley Crafton and the contractor John Payne," Harris said.
Since Harris is big on outdoor entertaining, she wanted to make sure that she got what she enjoys out of life through the oversized porches and additional shop. She created a CrossFit gym in the shop, batting cage and basketball space for her son and was very pleased with the results. According to Harris, her son is very active and she wanted to make sure the shop was big enough for him to do things he liked, even in the winter.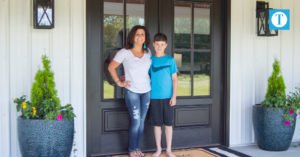 "It's our lifestyle — the outdoors, sports, an active life — that's who me and my son are," Harris said. "This house is just perfect for us."
Most new homeowners have a favorite feature of the house. For Harris, the spacious floor plan and tall ceilings stand out among the rest. The home started as a 40 ft. by 80 ft. building.
Inside the house, Harris kept a huge vaulted ceiling as tall as the building. Shiplap helps create the farmhouse feel along with all black windows and doors, giving the home a modern look.
Harris said she loves being in the country, a quiet haven tucked away on Highway 142. After she bought the property last spring, construction took just a little over six months. When she moved in a little over six weeks ago, she got settled quickly but also knew there was still much to be done.
"There's always more dirt work to a hay field than you think," Harris said.
Since moving in, Harris says the house has gotten a lot of attention. It's not uncommon to look out the window and see a car stopped to look at the beautiful home that sits on thirteen acres. The setting is so unique that people want to get closer to the property or take pictures.
"I need to do an open house because people just stop by," Harris said.