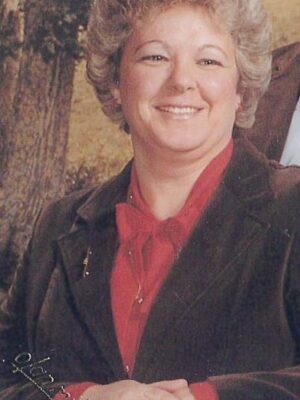 Paula S. (Higgs) Stallings, 71, of Knottsville, Kentucky passed away Sunday, May 1, 2022 at Owensboro Health Regional Hospital surrounded by her loving family. Paula was born in Owensboro, the middle of seven daughters, born to James Logan Higgs and Mary Alma (Robinson) Higgs. She attended Senior High and met Robert Eugene Stallings and married him on August 3, 1968. Paula was a devoted member of Precious Blood Parrish for many years. She and her family have since been parishioners at St. Columba in Lewisport and are currently serving their home Parrish at Sts. William & Lawrence in Knottsville.
Paula loved to sew, embroidery, cross stitch, and quilting. She brought smiles and delight to her family and friends with her homemade desserts and candy. She enjoyed volunteering at local church picnics, the Help Office, feeding the homeless at the Neblett Center, and a very active member of her church community. Paula was always the life of the party, a hard worker, and a very generous and giving person. She was a very joyful and happy person.
Paula and her husband were members of the Secular Franciscan, 3rd Order and served as their Regional Ministers for 6 years. She served on her church's Parish Council for a few years at St. Columba in Lewisport. She also volunteered to assist the Order of Poor Clares in making the unleavened hosts for Holy Mass in the Diocese of Evansville. She was an active member of The Cursillo Movement in the Diocese of Owensboro for many years.
Paula was devoted to her family. She was a loving wife, mom, mamaw, great-grandma, sister, aunt, in-law, and friend to many. Paula loved her family get togethers, celebrating holidays, and birthdays and anniversaries. She was a social butterfly, loved talking and laughing with people, never met a stranger and made everyone she met feel special, treating them like family.
Preceding her in death were her parents, James and Mary Higgs; three young sons, Mark, John, and Torrey James Stallings; her infant sister; her much loved sister-in-law, Martha Gene (Hornsby) Stallings; her father-in-law, Felix Tyler Stallings; nephew, Christopher Mattingly; and many beloved extended family and friends.
Paula is survived by her husband of 54 years, Robert; her three surviving children, Robert, Jr., Felicia (Scott) Elliott, and Dane; her six grandchildren, Torrey (Allyson) Grooms, Ryan (Jessica) Grooms, Michael (Mallory) Elliott, Ambra Abrams, Russell Stallings, and Alyssa Moseley; four great-grandchildren, Abigail, Mia, Isabelle, and Camden; six sisters, Pat (Bobby) Russell, Brenda (Terry) Dukes, Sharon (Wayne) Wilkins, Charlene Higgs, Saundra (Higgs) Townsley, and Marilyn (Don) Miller; and many nieces, nephews, cousins, aunts, uncles, and in-laws.
The Funeral Mass will be 11:00 am on Thursday, May 5, 2022 at St. William Catholic Church. Burial to follow at Resurrection Cemetery. Visitation will be 2:00 pm to 7:00 pm, with prayers being said at 6:00 pm, on Wednesday, May 4, 2022 at Haley McGinnis Funeral Home and again on Thursday, May 5, 2022 from 9:00 am to 10:00 am at the funeral home.
Expressions of sympathy may take form of donations to St. William Catholic Church Building Fund, 9545 Kentucky Highway 144 Philpot, Kentucky 42366. Envelopes will be available at the funeral home and church.
Haley McGinnis Funeral Home & Crematory is both honored and privileged to be entrusted with the care of Mrs. Stallings. Leave your messages of condolence for the family of Paula S. (Higgs) Stallings and sign her virtual guestbook at www.haleymcginnis.com.