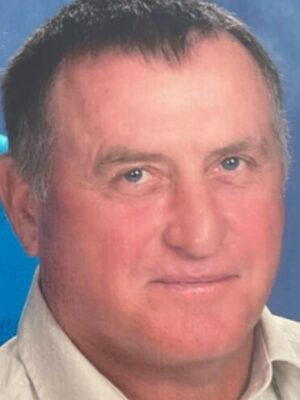 Terry Lee Pile, age 62 of Hardinsburg, KY passed away July 26, 2022 surrounded by his family at his residence. He was born in Hardinsburg, KY on June 23, 1960, son of the late Harold "Tobe" Pile and Evelyn "Toody" Drane Pile. He was a Utility technician for Veolia Water where he was employed 36 years. When he wasn't at Veolia, he was in his tobacco patch, checking on his cows or doing whatever his grandchildren wanted him to do such as fishing, hunting or taking them to town to stock up on candy. Terry aka Pappy loved spending time with his family and would often grill for them at family cookouts on Sundays. Terry was a member of St. Romuald Catholic Church.
In addition to his parents, he was preceded in death by his brothers Kenny and Danny Pile,  sister-in-law Annette Pile and nephew Wade Pile.
Terry is survived by his wife Janet Pile of Hardinsburg, KY
3 daughters – Christy (Adam) O'Bryan; Vanessa (Justin) Armes and Shannon Pile ( Mark Salmon) of Hardinsburg, KY
7 grandchildren – Kenley, Kolton and Kannon Armes; Andrew, Barrett and Jace O'Bryan and Kira Salmon
2 sisters – Donna (John) Biggs of Owensboro, KY and Susan Pile of North Carolina
5 brothers – Eddie Pile of Georgia; Larry (Bobbi) Pile of Harned, KY; Timmy (Nancy) Pile and Tony (Linda) Pile of Mook, KY; Patrick (Edna) Pile of Hudson, KY
many nieces and nephews
Funeral services will be held at St. Romuald Catholic Church on Saturday, July 30, 2022 at 1:30 PM with burial in the church cemetery. Visitation will be held at the church on Friday, 4-7 PM and Saturday at Trent-Dowell Funeral Home from 10 AM – 1 PM.
Expressions of sympathy are suggested to St. Romuald School or St. Romuald Catholic Church.
To send flowers to the family or plant a tree in memory of Terry Lee Pile, please visit our floral store.
---