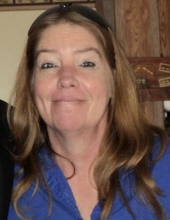 Anna Louise Troutman Dickens, 57, of Philpot died on Thursday, August 4, 2022, at the Heartford House in Owensboro. She was born in Daviess County on February 6, 1965 to the late Jimmy Troutman and Anna Lou Crick. Anna enjoyed watching Westerns and soap operas, spending time with her family and friends and all her friends at Millay's Tavern. She loved UK Basketball.
In addition to her father, Anna is preceded in death by her brother, Tony Case.
Anna is survived by her husband of 7 years, Timothy Dickens, her children, Bobby Joe Troutman, Crystal Bolton and Amanda Pennix; grandchildren, Kaitlyn, Summer, Amy, Brittany, Shelby, Elizabeth, Alexus, Audrey, Brianna, and great grandson Micah; her mother, Anna Crick; brothers, Roger, Jerry and Dennis Case; mother-in-law and father-in-law, Patricia and Kenneth Taft; father-in-law, Bird Dickens; and brothers-in-law Troy and Cody Dickens.
The funeral service will be at 12:00 p.m. on Monday, August 8, 2022 at Cecil Funeral Home in Whitesville, KY with burial following at Carter Creek Cemetery in Greenville, KY. Visitation will be from 9:00 a.m. to 12:00 p.m. on Monday, August 8, 2022, at Cecil Funeral Home in Whitesville.
The family requests expressions of sympathy take the form of donations to the Anna Dickens Memorial Fund. Envelopes will be available at the funeral home or donations may be made online.
If you would like to make a donation in memory of Anna Louise Dickens, please visit the 
Tribute Fund.