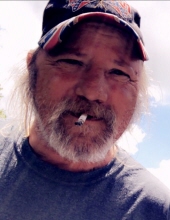 Randy Ray Fuqua, 54, of Owensboro, passed away Sunday, November 13, 2022 at Owensboro Health Regional Hospital. He was born June 18, 1968 in Owensboro to the late Augustus Lee Fuqua and Shirley Smith Fuqua. Randy worked as a farm hand and enjoyed fishing.
In addition to his parents, he was preceded in death by two sons, Timothy Fuqua and Jacob Fuqua; brothers, David Fuqua and Charles Fuqua; and sisters, Bonnie Fuqua and Elsie Mattingly.
He is survived by his children, Randy Patton, Jessica Patton, Tara Fuqua, David Goatee (Amber Button), Melissa Allgood (Herbert Allgood Jr.), Roger Fuqua Jr., Maggie Fuqua, Josh Meyer, and Sonny Parrish; companion, Connie Estes; grandchildren, Amber Mattingly, Kara Allgood, Elizabeth Fuqua, Jayden Fuqua, Mia Sheets, Isabella Sheets, Brooklyn Patton, Brycen Patton, Brittney Goatee, Skyler Napp, Emma Parrish, Keeile Parrish, Emily Parrish, Carleigh Fuqua, Amara Hope, and Marcella Fugua; two great-grandchildren, Gracelyn Harris and Jordan Harris; and his siblings, Betty Bryan (Ronald), Thomas L. Fuqua (Mary Louise), Roger Fuqua (Anna), and Ricky Fuqua (Crystal).
Funeral services will be at noon on Friday, November 18, 2022 at Cecil Funeral Home, Whitesville. Burial will follow in Rosine Cemetery, Rosine, KY. Visitation is from 2 to 7 p.m. on Thursday and from 10 a.m. until service time on Friday at the funeral home.
Expressions of sympathy may take the form of donations to the Randy Fuqua Memorial Fund, c/o Cecil Funeral Home, P.O. Box 6, Whitesville, KY 42378.
If you would like to make a donation in memory of Randy Ray Fuqua, please visit the 
Tribute Fund.