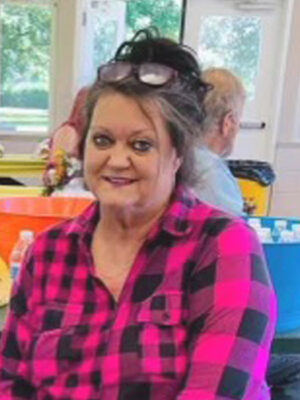 Marilyn Huckleberry  64, of Island, Kentucky went home to be with the Lord on Saturday, March 11, 2023 at Owensboro Health Regional Hospital.  Marilyn Sue Smith was born July 20, 1958 in Livermore, Kentucky to the late Jimmy Harrel and Ora Lee Garst Smith and was married to Danny Joe Huckleberry March 1, 1990.  Marilyn was a homemaker and a member of Livermore Missionary Baptist Church.  She enjoyed fishing, mowing for her yard, and caring for her grandchildren.
Survivors include her husband of 33 years, Joe Huckleberry; a son, Dwayne Case (Julie) of Livermore; two daughters, Tiffany Cline (Christopher) and Tenika Humphrey both of Livermore; 6 grandchildren; 2 great grandchildren; and four sisters, Ora Lee Smith, Joyce Burks (Ricky), Carolyn Smith, and Angie Bray (Orville) all of Livermore.
Funeral services will be held at 2:00 P.M. Wednesday at Muster Funeral Homes, Livermore Chapel with the Rev. Clive Bell officiating.  Burial will be in the Green River Memorial Gardens in Livermore.  Friends may visit with Marilyn's family from 11:00 A.M. until 2:00 P.M. Wednesday at Musters in Livermore.
Marilyn's services will be streamed live on www.musterfuneralhomes.com at 2:00 P.M. Wednesday.
The Marilyn Huckleberry family requests that expressions of sympathy take the form of donations to Livermore Missionary Baptist Church; P.O. Box 287; Livermore, Kentucky  42352.
Share your memories and photos of Marilyn at musterfuneralhomes.com.