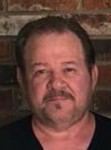 George H. Flynn, 58, of Owensboro, died on Saturday, August 4, 2018, at his home. He was born on June 20, 1960 in East Chicago, Indiana to William Moomau and Judith Hicks Elliott. He was a U.S. Navy veteran and was employed as a truck driver. George was an excellent drummer. He was preceded in death by his father, William Moomau.
Survivors include his mother, Judy Elliott; siblings, Tammy Gaddis, Brenda Barrett, Richard Flynn, Tina Warner and John Elliott and several nieces and nephews.
Services will be private. James H. Davis Funeral Home & Crematory are in charge of arrangements.