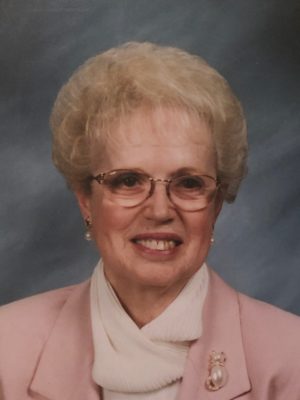 Vivian Osmun Hardy Eddy, of Owensboro, passed away January 11, 2021 at Wellington Parc. She was born in Detroit, MI on July 26, 1922 to Lyle and Lillie Osmun.
Vivian worked for Blue Cross Blue Shield of Michigan for 32 years traveling to Detroit each day on the commuter train where she made many lifelong friends. She was a world traveler having visited all the continents except Antarctica. She was an active member of the American Women's Business Association for 25 years and the mystery lady for 17 trips for her chapter, taking them from Port Huron to Windsor Ontario, Canada.
She loved her home and yard having spent 56 years in the same house. Vivian was an active member of Central United Methodist Church, Waterford, MI where she had many wonderful friends.
She was widowed twice, first when Bill Hardy died and again when John Eddy, with whom she spent fifteen years before he passed on. Her grandson, Chris Frick, also preceded her in death.
She leaves two children, Diane Aguleria (Antonio) of Anaheim, CA and Denny Hardy (Louise), Owensboro; five grandchildren, Rodney Frick, Randy Frick, Kelly Frick, Brett Hardy and Kristyn Humphrey; and many grandchildren and great-grandchildren.
Thank you to all the wonderful staff at Wellington Parc, Owensboro, KY that have cared for Vivian for the last three years.
There will be no services. James H. Davis Funeral Home & Crematory is in charge of arrangements.