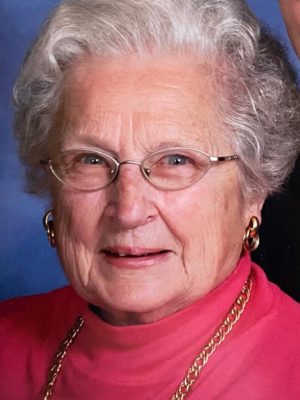 Anna "Jean" Graf Danhauer passed away peacefully at her home on Tuesday, February 2, 2021 at the age of 93. She was born September 23, 1927 to the late Wm. & Mary Kurz Graf.
After graduating from St. Joseph High School, Jean attended Mount St. Joseph Jr. College at Maple Mount and then Ursuline College in Louisville, where she earned her degree as a Medical Lab Technologist. It was there she met her future husband of 70 years, Bill. She worked many years and retired from Owensboro Daviess County Hospital where she was instrumental in developing what has become Western KY Regional Blood Center.
After retirement, Jean enjoyed traveling and spending time with family at their cabin at Lake Malone. She was well known for her many loaves of homemade bread and "kucha', as well as jams, cookies, and candies. She enjoyed sewing, producing quilts, afghans and cross-stitched gifts for family and friends.
She was a longtime member of St. Stephen Cathedral. Her love for her Catholic faith was evident in her prayer life and time in adoration at the Carmel Home.
Along with her parents, Jean is preceded in death by Rosemary Graf Harrison, Betty Graf Walker, Louise Graf Hayden, Father Herbert Graf, and Joe Graf.
She is survived by her husband, William E. Danhauer, Jr.; her children, Kathryn (Allen) Wolsing, Mary Danhauer, Freda (Thomas) Ruby, Nancy (Steve) Vellota, David (Karen) Danhauer, Jeff (Jennifer) Danhauer, and Chris (Joe) Schepers; 21 grandchildren; 40 great-grandchildren; and her sister, Pat (Clayton) Houston.
Services will be noon Friday, February 5, 2021 at St. Stephen Cathedral. Visitation will be from 9:00 and until 11:45 am Friday at the church.
All those who wish to honor and remember Jean at the visitation or service are required to wear a mask for the safety of all those in attendance.
Expressions of sympathy may take the form of donations to the Carmel Home; 2501 Old Hartford Rd, Owensboro, KY 42303; Food for the Poor; P.O. Box 979005, Coconut Creek, Florida 33097-9005; Carmel of the Immaculate Heart of Mary; P.O. Box 2777; Cody Wyoming 82414-2747. Envelopes will be available at the church.
Haley McGinnis Funeral Home & Crematory is both honored and privileged to be entrusted with the care of Mrs. Danhauer. Share your messages of condolence with the family of Anna "Jean" Graf Danhauer and sign her virtual guestbook by going to www.haleymcginnis.com.