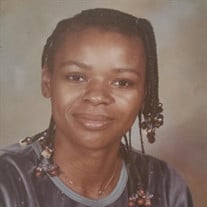 Joyce "Mama Joyce" Nel McKenzie, 67, of Owensboro departed this life October 7, 2021. She was born September 24, 1954, to Henry Yarbrough and Nel V. McCreary.
Joyce was a member of Tenth Street Baptist Church in Owensboro, KY. She was a fan of Ice Cube and listened to him often. She also enjoyed watching movies, new or old. Gunsmoke was her favorite TV show and watched it along with her favorite soap operas. Joyce, her grandchildren, and great-grandchildren all loved playing together as often as they could.
Joyce was preceded in death by her husbands, Willie Binns and Jerald McKenzie, her parents, stepfather Leroy McCreary and Nel V. McCreary, her brother Jerry Brice, and her beloved grandson, Actavious McKenzie.
Joyce's precious memories will be cherished by her father, Henry Yarbrough, her sons, Dontá (Stephanie) McKenzie, Willie (Angie) McKenzie, Santana McKenzie, and Isaac McKenzie, her daughters, Holiwood McKenzie and stepdaughter Shanda (Binns) Boyd, her brother, Johnny Brice, her sisters, Gail Brice Rutledge, Linda Bell, and Brenda Harris, her special little helper, Diesal McKenzie, as well as a host of grandchildren, great-grandchildren, other relatives, and friends.
To send flowers or a memorial gift to the family of Joyce "Mama Joyce" Nel McKenzie please visit our Sympathy Store.