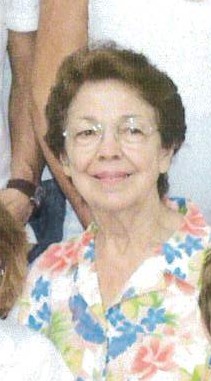 Shirley Froehlich Jarboe, 86, of Owensboro, Kentucky went to be with her lord and savior on Thursday, January 27, 2022. She was born on February 14, 1935 in Owensboro, Kentucky to the late Paul J. Froehlich and Ava Harl Froehlich. Shirley worked as a sales clerk at Danhauer Drug Store and was a member of St. Stephen Cathedral.
Shirley made many friends at her stay at the Carmel Home, she was always helping others out. She loved flowers, her grandchildren, and her neighborhood children. She enjoyed her trips to Florida and to Louisiana to visit her son. Shirley was also a fan of bird watching, she enjoyed watching the birds outside of her kitchen window.
Along with her parents, she is preceded in death by her husband Joseph Henry Jarboe, Jr.; her daughter, Linda Cole; siblings, P.J. Froehlich, Helen Franey, Louise Haynes, Tom Froehlich, Jim Froehlich, Gloria Burcham, Bill Froehlich, June Clark, and Sylvia Heflin.
Shirley is survived by her children, Alan (Cindy) Jarboe, Patrick (Julie) Jarboe, Lisa Kuntz, and Joe (Marilyn) Jarboe, III; thirteen grandchildren; thirteen great-grandchildren; and her brother Norman Froehlich.
Services will be 1:00 pm Wednesday, February 2, 2022 at Haley McGinnis Funeral Home and Crematory. Burial will follow at St. Peter of Alcantara Cemetery. Visitation will be 11:00 am to 1:00 pm on Wednesday, February 2, 2022 at Haley McGinnis Funeral Home and Crematory. Expressions of sympathy may take the form of charitable donations to St. Jude Hospital, envelopes will be availble at the funeral home.
Haley McGinnis Funeral Home & Crematory is both honored and privileged to be entrusted with the care of Mrs. Jarboe.  Share your messages of condolence with the family of Shirley Froehlich Jarboe and sign her virtual guestbook by going to www.haleymcginnis.com