An early-season matchup of two of the top teams in Region 3 had the makings of a championship game, and it came down to the final minute before Owensboro Catholic was able to secure a win over Breckinridge County.
A 12-point lead for the Aces (3-0) in the second quarter slowly disappeared and the Tigers (2-1) went up by a point in the fourth, but a strong final push by Catholic led to a 79-73 win at home Monday night.
Following a score that put Breckinridge County up 62-61 with 4:59 to play, Brian Griffith hit a floater in the lane at the other end to start an 11-0 run for the Aces.
The Tigers tried to come back, and a corner 3 and layup cut the deficit to four points with 19 seconds to play. Relying on fouling the Aces at the other end proved futile, as Peyton Survant went 8-for-8 at the line down the stretch to keep Catholic ahead by a couple of scores until the end.
Head coach Tim Riley was happy with the win and the late response, but said there's still room to get better.
"I was really proud of us," he said. "They finally took the lead by one, but we came back and made a basket. We're pretty rusty right now. We've got a lot of work to do."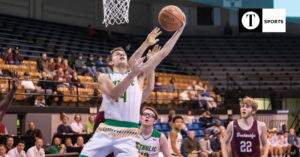 Survant finished with a team-high 18 points, including hitting three 3-pointers. The Aces got scoring from seven different players, and Riley said the team has more depth than people probably expected.
"We have a bunch of guys who can play basketball," he said. "Everybody thought when we lost those seniors that we would step way, way back. We played eight tonight, seven mostly. Everybody contributed and did a nice job."
Big first quarters by Drew Hartz, Andrew Riney and Ty Vincent helped Catholic go up 24-15, and a fast break layup by Hartz in the second period gave the Aces their largest lead of 12 points.
The Tigers' Kobe Poole (29 points) and Tanner Whitworth (20 points, five 3-pointers) led the comeback effort. Riley said the duo was difficult for Catholic to guard.
"They've got one guy (Poole) that can put his head down and is hard to deal with," he said. "They've got another guy (Whitworth) that if you dare leave him, he's going to knock a shot down. He shoots it from so deep that you have to go out so far to guard him it opens the floor up."
Overall, Riley was pleased with the effort but said he expects even more going forward.
"Defensively we did a pretty good job," he said. "Poole is just a heck of player and it's hard to stop him. I thought defensively we weren't bad. We can play better. We played good enough to win, but I think we can play better."
The Aces have a quick turnaround, as they continue their four-game homestand by hosting Grayson County at 7:30 p.m. Tuesday. Catholic then opens district play Friday by hosting Apollo in the final game of December.
Owensboro Catholic scoring: Peyton Survant (18), Andrew Riney (13), Drew Hartz (11), John Parker (11), Ty Vincent (9), Zach Cecil (9), Brian Griffith (8)