The fourth quarter wasn't exactly pretty, but by then the Owensboro Catholic High School girls' basketball team was well on their way to an eventual 72-57 victory over Louisville Butler.
The Lady Aces (2-1) led by as many as 25 points in the Independence Bank Classic as they easily handled a Bearettes (1-1) team that was ranked in the top 20 in the state in some preseason polls.
It makes two convincing wins in a row for Catholic following a 21-point season-opening loss to Castle — one of the top teams in Indiana.
Head coach Michael Robertson said the loss gave the Lady Aces plenty of points of emphasis going forward.
"We worked on our spacing, getting down and playing defense, and being more physical," he said. "(Butler) is a lot like Castle and a little bit more athletic, but they don't shoot the ball as well as Castle. They're a good team and that was a great win."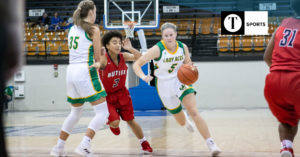 Robertson said his team looked good overall and shared the ball, and they finished with 16 assists. Butler took a short-lived 10-8 lead midway through the first quarter, but a 15-0 run gave Catholic plenty of separation before the second period began.
The Lady Aces used strong games from Hannah McKay and Mackenzie Keelin — 19 points each — to maintain a sizeable lead the rest of the way. Robertson said there's still work to do, as the team made some mistakes down the stretch.
"We've got to learn time management," he said. "We took some bad shots there in the fourth quarter. There's a lot of little things we can do. We're going to keep working to continually get better and hopefully be ready to make a run in the postseason."
Robertson said playing top programs in the state will be key in preparing for a potential title run, and it's why he added tougher competition to the schedule.
"I want us to be able to feel like we can compete with anybody in the state and anybody on our schedule," he said. "We beefed our schedule and are going to go out and challenge ourselves. We'll play good teams and hopefully we'll come out on the right end."
The Lady Aces are off until Friday, when they end their four-game homestand by hosting Apollo to open district play.
Owensboro Catholic stats: Mackenzie Keelin (19 points, 5 rebounds), Hannah McKay (19 points, 3 rebounds), Caroline Reid (8 points), Spencer Harvey (8 points), Sarah Beth Clemens (8 points, 5 rebounds, 5 assists), Isabella Henning (6 points, 3 rebounds) and Madelyn Lyon (4 points, 3 rebounds)