When regulars at Country Ham Restaurant, just west of Owensboro on US 60, are asked what the restaurant is known for, the surprising answer is actually not country ham – the restaurant is known for delicious fried fish.
"I told my kids 'I'm thinking about buying a fish place,'" said Janice Kennedy of Owensboro. "They said, 'Great, what's the name?' and I said, 'It's the Country Ham.'"
The origin of the restaurant's name is a mystery as unlimited fried fish has been on the menu for at least 35 years.
Country Ham Restaurant has been in continuous operation in the same location since 1949. Kennedy has owned and operated Country Ham Restaurant since November 2009.
Kennedy's friend brought her to the Country Ham to eat for the first time that year and the long-time owner was talking about selling it. Her friend's son bought the restaurant and then sold it to her three months later.
"He held onto it until I made my last house payment," she said. "I was totally out of debt for three weeks. I didn't even get to see what it was like that first month with no payment."
As Kennedy assumed ownership, she kept hearing about not changing the menu.
"All I heard from the customers when I first bought it was 'Please don't change anything,'" Kennedy said.
She has tried to keep everything the same but has also added some low-calorie options like grilled chicken and grilled chicken salad which have been popular.
Kennedy confessed that she did change the spaghetti recipe because it was more "peppery" than she liked it. The unlimited spaghetti is another popular menu item.
Like most small business owners, Kennedy does whatever job needs to be done in the restaurant, including some of the cooking.
There are certain menu items that only Kennedy prepares.
"I make all the deviled eggs, fried green tomatoes, fried chicken and homemade gravy," she said.
When Kennedy was considering adding a Sunday breakfast, she mentioned it to Country Ham regular Billy Spencer, who has since passed away. He talked her into it.
Vicki and Kevin McCarthy of West Louisville describe themselves as Friday night and Sunday morning regulars at Country Ham Restaurant. They are both fans of the fried fish.
"I just like the seasoning on it," said Vicki. "You can taste the fish, it's not just all breading."
Kevin says they offer unlimited fish, but he gets the regular order because it includes three or four big pieces of fish that are enough for him.
Owensboro attorneys Ben Hawes and Tom Meyer eat lunch at The Country Ham every Wednesday.
Hawes has been eating there every Wednesday since he started practicing law in 1972.
"There were two old men that came out here and I started eating with them," Hawes said. "It's always been on Wednesday. There are closed on Monday and Tuesday, so there was a theory that the oil would be cleaner for the fried fish."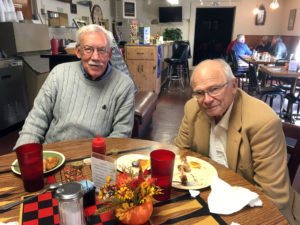 Meyer, who has been eating at Country Ham for 25 years says the fish is "outstanding."
Hawes says he eats the fish "probably 75 percent of the time."
"They have things that you can get here in the evening – like frog legs and a few other things – that you can't get anywhere around here," Meyer added.
Country Ham Restaurant is located at 5421 US 60 West. Operating hours are 11 a.m. to 8 p.m. on Wed., Thurs. and Sat.; 11 a.m. to 9 p.m. on Friday; and 7 a.m. to 1 p.m. on Sun. The restaurant is closed on Monday and Tuesday.
To see the full menu on Facebook, visit The Country Ham.