"Yesterday in Sports" brings you the highlights from sports in Owensboro and Daviess County.
Girls basketball: Owensboro Catholic, Trinity
Boys basketball: Trinity (story here)
GIRLS BASKETBALL
Owensboro Catholic 64, Meade County 37
The Lady Aces (1-1) used a strong second half to earn a big home win over the Lady Waves (0-2). Catholic shot 15-of-28 to outscore Meade County 36-19 after halftime.
Mackenzie Keelin led the way with 21 points to go along with five rebounds and three assists. Sarah Beth Clemens had 16 points and six rebounds, and Hannah McKay added 10 points and eight rebounds.
Other scorers were Spencer Harvey (8 points, 3 assist), Madelyn Lyon (4 points, 6 rebounds, 3 assists), Randchelle Johnson (2 points), Kinsley Goetz (2 points) and Isabella Henning (1 point).
The Lady Aces play Butler at 6 p.m. Saturday as part of their own tournament, the Independence Bank Classic hosted at the Sportscenter.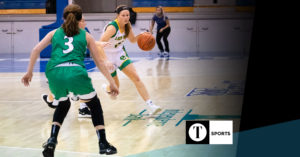 Graves County 75, Trinity 27
The Lady Raiders (1-1) kept it close in the first quarter before the Lady Eagles (1-0) pulled away for the win as part of the Marshall County Hoopfest.
Cassidy Morris scored a team-high 17 points and had seven rebounds. Other scorers were Georgia Howard (5 points), Josie Aull (3 points) and Katherine Hibbitt (2 points, 5 rebounds).
Trinity returns home today to play Fort Campbell in the Trinity Shootout, which will continue on Saturday.