The Trinity basketball teams had no trouble getting by Frederick Fraize in a doubleheader at home Monday night. The girls cruised to a 61-21 victory, and the boys followed with a 78-49 win.
GIRLS
All seven players got on the board for the Lady Raiders (9-14) as they used a hot second quarter to pull away early against the Lady Aces (5-20).
Georgia Howard, Cassidy Morris and Morgan Kinsey each scored 4 points to help Trinity take a 14-10 advantage after the first period.
A jumper by Nina Wathen and back-to-back 3-pointers by Josie Aull pushed the lead to double digits, and Frederick Fraize had no answer at the other end. The Lady Raiders limited their opponent to a single point in the second quarter en route to a 28-11 lead at the half.
Trinity head coach John Cummings said after Frederick Fraize hung tough early, the Lady Raiders adapted and responded well.
"(Frederick Fraize) plays really hard," he said. "All we asked our kids to do was match their intensity. They really frustrated us a lot in the first half. In the second half we told them to settle down and just play. They executed a lot better down the stretch."
Wathen scored 6 more points in the third, while Morris added 5 of her own as Trinity went up 41-19. Morris closed the game by hitting all five free throw attempts to go along with a jumper and 3-pointer in the final frame.
The Lady Raiders did not allow a basket in either the second or fourth quarters. They hit 9-of-11 free throws in the fourth, and Morris finished 8-of-9 at the line.
Morris finished with a game-high 21 points, while Aull added 13 and Wathen finished with 9.
Cumming said he's happy with the progress the team has made, and he trusts them to his shots and get assists.
"We feel like our kids can shoot the ball," he said. "They are very intelligent and they make the easy pass. Overall what I'm pleased with is we're getting better."
Scoring
F. Fraize 10-1-8-2–21
Trinity 14-14-13-20–61
Trinity: Cassidy Morris 21, Josie Aull 13, Nina Wathen 9, Morgan Kinsey 6 Hadley Hatfield 5, Georgia Howard 4, Katherine Hibbitt 3
---
BOYS
Much like in the girls' game, the Raiders (13-11) used the second quarter to open up a big lead, and they got scoring from 13 players, while the Aces (0-24) remained winless on the season.
Trinity only held a 14-9 lead at the end of the first quarter, and head coach Nathan West said it was mostly due to playing more post players at once in honor of senior night. Once they returned to their normal set, it didn't take long to pull away.
"I thought we had a more efficient lineup (in the second)," West said. "We were playing our seniors and we had a lot of big guys out there. Once we got our regular lineup in we got into a better flow and it kind of went from there."
Trenton Morris and Joe Brown combined for 9 points in less than a minute early in the second, and the Raiders held a double digit lead the rest of the way. Will Edge scored the final 6 points of the half to put Trinity up 39-23 at the break.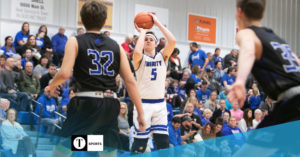 Seven different players scored in the third quarter that stretched the lead to 56-34, and then six more players scored in the final frame as Trinity continued to add to the lead. West said the players are unselfish and like to see everyone get on the board when they can.
"They tend to know who needs it more than I do," he said. "They're a pretty close group so they kind of take care of each other. We try to get them all involved if we can."
Morris led with 15 points, Edge added 11 and Brown finished with 9.
Scoring
F. Fraize 9-14-11-15–49
Trinity 14-25-17-22–78
Trinity: Trenton Morris 15, Will Edge 11, Joe Brown 9, Brenden Wathen 7, Denver Dickens 7, Ethan Howard 6, Landon Hall 4, Sam Russelburg 4, Ben Goetz 4, Landon Huff 4, Nathan Hernandez 3, Kevin Foster 2, Cade Mills 2